COMPETITION La Escuela Politécnica Superior de Mondragon Unibertsitatea promueve el concurso 'Industrial Sustainable Entrepreneurship Awards', y busca ideas de negocio de base tecnológica o start ups que necesiten la ayuda de un estudiante de ingeniería 2023·09·22
En la convocatoria que se cerrará el 15 de octubre se otorgarán 6 premios de 15.000€ cada una y podrán presentarse tanto proyectos individuales como grupales. El concurso está patrocinado por Grupo Fagor, Orbea, Centro Stirling y Fagor Ederlan.
Proyecto STEMotiv Comienza la cuarta edición del proyecto STEMotiv con la apertura del plazo de inscripción para los centros educativos de Gipuzkoa 2023·09·21
Esta nueva edición se centrará en la Educación Primaria. El objetivo del proyecto es comprender e incidir en el interés y motivación del alumnado de esa etapa educativa por las materias STEM.
PROYECT Alfa and DBZ launch BIRJOSI proiect 2023·09·21
DBZ will assist Alfa Hogar to explore new business model opportunities in the field of circular fashion through human-centred design
By yourself Updated agreements with gyms and sports centers 2023·09·19
Would you like to practice physical activity on your own? Take advantage of the advantages available to you thanks to our financial aid.
Programa de Doctorado Mondragon Unibertsitatea y la Universitat de Vic-Universitat Central de Catalunya organizan una jornada para analizar la colaboración entre instituciones educativas y universidades en el marco de las tesis doctorales 2023·09·19
La jornada, que se ha celebrado el 29 de septiembre en el campus de Eskoriatza, está organizada dentro de las acciones del programa de Doctorado en Innovación e Intervención Educativas que impulsan ambas universidades.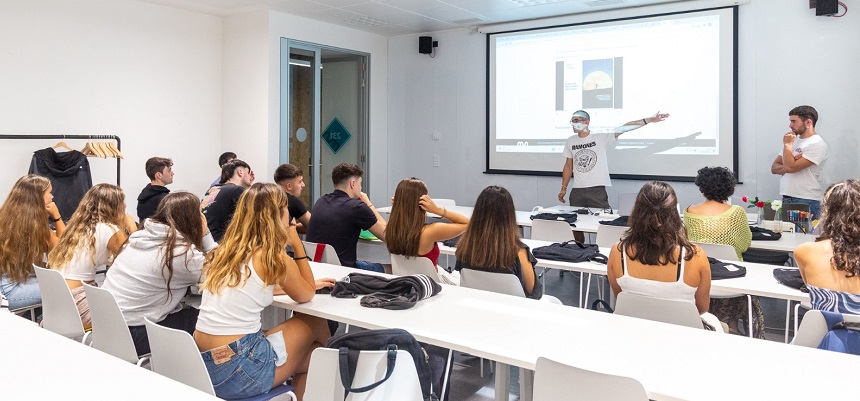 Welcome plan activities We have participated in the welcome plan for first-year students. 2023·09·19
As part of the welcome plan, as well as taking part in the gymkhana to get to know the university's services, the sports service has organised various activities.
ACUERDO Mondragon Unibertsitatea y LABORAL Kutxa firman un acuerdo para poner en marcha espacios denominados Aula LABORAL Kutxa 2023·09·18
Uno de los espacios estará en la facultad de ingeniería, en Arrasate, y el otro en la facultad de Enpresagintza, en Bilbao.
Mountain hiking Hiking to Aitzorrotz with the new Erasmus students 2023·09·18
Opportunity to get to know our surroundings through hiking
Inicio del curso 2023-2024 El presente curso la Facultad de Humanidades y Ciencias de la Educación contará con 456 nuevos alumnos y alumnas de grado 2023·09·11
Entre los días 11 y el 13 de septiembre, comenzarán las clases las alumnas y alumnos de los cuatro grados que oferta la Facultad de Humanidades y Ciencias de la Educación: Educación Infantil, Educación Primaria, Comunicación Audiovisual y Humanidades Digitales Globales (HDG).
Opening of the acadmic year Opening of the 2023-2024 academic year of Mondragon Unibertsitatea at the Oñati campus 2023·09·08
The Lehendakari, Iñigo Urkullu, has officially opened the 2023-2024 academic year at Mondragon Unibertsitatea
EXCURSION Beginning of the academic year at Biteri Hall of Residence 2023·09·08
The students who will be staying at Biteri this academic year have already arrived
CURSOS GRATUITOS Mondragon Goi Eskola Politeknikoa ofrecerá cursos gratuitos para profesionales durante todo el curso 23/24 2023·09·07
Serán cursos dirigidos prioritariamente a profesionales en activo.
WEBINAR The road to more renewable energy 2023·09·06
Fundación Repsol and the Higher Polytechnic School of the University of Mondragón - Mondragón Unibertsitatea are organising this webinar in which the evolution of renewable energies in Spain will be analysed and these issues will be debated, analysing the main challenges they face in their effective deployment.
Reimagine Talks El 21 de septiembre, evento online para reflexionar sobre la importancia de los perfiles de salida del alumnado en el cambio educativo 2023·09·04
En la presentación tomarán parte dos ponentes: Xavier Aragai, director de Reimagine Education, y Nagore Ipiña, decana de la Facultad de Humanidades y Ciencias de la Educación de Mondragon Unibertsitatea.
Entrevista Diego Egizabal: "Hemos estudiado cómo se enseña el lenguaje escrito hasta que los niños y niñas son capaces de realizar de forma automática las operaciones mentales de orden inferior implicados en la lectura y la escritura" 2023·09·04
La tesis "Idatzizkoaren hasierako irakaskuntza dispositibo didaktikoen argitan. D ereduko ikastetxe baten kasu azterketa." presentada por Diego Egizabal en el campus de Eskoriatza el pasado mes de julio, obtuvo la calificación de sobresaliente. Hemos hablado con el autor sobre dicha investigación.
Start of course 2022-2023 course start dates in the Faculty of Engineering 2023·09·04
Bachelor's and Master's degrees and Advanced Training Cycles will begin in September. The Administration and the Academic Secretary of the Faculty of Engineering will open on 1 September.
Sports and health activities You can now see our offer for the 2023-2024 academic year 2023·09·04
Check out our program and get involved!
MTALENT PRO The second edition of the Senior Program on People, Culture and Talent for the Future of Work has ended 2023·07·27
The second edition of the Senior Program in People, Culture and Talent for the Future of Work, carried out in collaboration with ADEGI, has ended
Oferta de empleo La Facultad de Humanidades y Ciencias de la Educación de Mondragon Unibertsitatea quiere contratar dos docentes de Digitalización en Educación y Didáctica de la Tecnología para los grados de Educación Primaria y Educación Infantil en el curso 2023-2024 2023·07·26
El plazo para recibir los currículos finaliza el 10 de septiembre de 2023.
MTA-LEINN Mondragon Team Academy - Leinn Back in India 2023·07·26
India is back. We are back in India. A classic MTA destination
Vacaciones La Facultad de Humanidades y Ciencias de la Educación permanecerá cerrada hasta el día 1 de septiembre 2023·07·21
Del 21 de julio al 1 de septiembre de 2023, la Facultad de Humanidades y Ciencias de la Educación permanecerá cerrada por vacaciones de verano.
Anniversary Surpassing the quarter of a century 2023·07·21
After a year full of events, Mondragon Unibertsitatea concludes its 25th anniversary celebrations.
Cooperativismo Presentados en el campus de Eskoriatza los proyectos de la 15. edición del título Experto en Cooperativismo 2023·07·18
En esta edición han participado 16 entidades.
VISIT Students of the Interuniversity Master in Hydrogen Technologies visit the facilities of the companies Petronor and Carburos Metálicos 2023·07·18
The master's degree has several sites - Bilbao, Barcelona, Tarragona and Zaragoza - and students from each site visit the leading companies located in their area.
PROYECTO Se graduan 57 estudiantes de la I promoción del Máster Interuniversitario en Tecnologías del Hidrógeno 2023·07·17
La mayoría de los y las alumnas ha desarrollado su proyecto final de máster orientado a responder al reto real de una empresa. Entre los proyectos presentados se encuentran el diseño de una pila de combustible para un camión, el diseño de una nueva planta de e-fuel, motores de combustión 100% hidrogeno, un sistema de almacenamiento y transporte de H2 de uso doméstico o la generación de hidrógeno con reactor nuclear, entre otros trabajos
Hack & Disrupt Successful conclusion of the III Fintech Hack&Disrupt! Meeting organized by Mondragon Unibertsitatea and Bolsas y Mercados Españoles 2023·07·14
The event is supported by the City Council, the Provincial Council of Bizkaia, BBK Foundation, Bilbao Plaza Financiera and the Basque Government
Tesis doctoral Marta Quintas, sobresaliente 'cum laude' en su tesis doctoral 2023·07·13
La presentación de la tesis "Gurasoen hezkuntza-inplikazioa aniztasun sozioekonomikoa eta kulturala duten EAEko bi eskola eraginkorretan" se ha llevado a cabo en el campus de Eskoriatza.
CONGRESS Mondragon Unibertsitatea organizes the XXVII International Congress on Project Engineering Management (CIDIP 2023) 2023·07·13
The event was attended by more than 200 national and international professionals to discuss and present their latest research related to project engineering management.
THESIS The student Miriam Ugarte Querejeta obtained an OUTSTANDING CUM LAUDE qualification with 'INTERNATIONAL DOCTORATE' mention 2023·07·11
COURSE New data scientists are now ready to carry out Artificial Intelligence projects. 2023·07·10
The second edition of the Data Science Expert course for professionals of Mondragon Unibertsitatea has been successfully completed.