Premios Kimu Berri 2023 Entregados los premios Kimu Berri a los mejores trabajos de Fin de Grado en Comunicación Audiovisual 2023·06·05
El 2 de junio, en un acto celebrado en el campus de Aretxabaleta, el alumnado de 4º de Grado en Comunicación Audiovisual ha realizado la presentación pública de los Trabajos de Fin de Grado y ha participado en los premios Kimu Berri. En el acto se reunieron el alumnado, los y las tutores de la Facultad y los y las tutoras y representantes de las organizaciones colaboradoras. El acto fue ofrecido en streaming desde el plató del campus.
On the basis of the agreement signed between Mondragon Unibertsitatea and the PuntuEUS Foundation you can obtain the .EUS domain under favourable conditions Apply for your free .EUS domain 2023·06·05
Agreement
Doctoral meeting First Meeting of Doctoral Students at the Business Faculty of Mondragon Unibertsitatea 2023·06·05
The doctoral program of the Business Faculty of Mondragon Unibertsitatea organizes, on June 6, 2023, the First Meeting of Doctoral Students of the Faculty
CURSOS GRATUITOS Mondragon Goi Eskola Politeknikoa ofrecerá cursos gratuitos para profesionales hasta julio 2023·06·05
Serán cursos dirigidos prioritariamente a profesionales en activo.
Awards Diplomas Mondragon Unibertsitatea awards diplomas to 250 graduates in the field of talent and business management 2023·06·02
105 students have graduated from the degree in Business Administration and Management - MyGADE Dual at the Oñati and Bidasoa campuses -, and 145 from the different university master's degrees and other programs aimed at professionals offered by the Business Faculty
Humanidades Digitales Globales Alumnos y alumnas del grado en Humanidades Digitales Globales organizarán el próximo 8 de junio en Bilbao el acto social 'Erantzi' 2023·06·01
Con el evento, que se llevará a cabo en el hotel Ilunion, pretenden fomentar las relaciones afectivo-sexuales saludables entre los y las jóvenes.
Máster en gastronomía Alumnado del Máster universitario en Formación del Profesorado de Gastronomía realizan una estancia en el País Vasco 2023·06·01
Los y las alumnas del máster universitario online tendrán la oportunidad de conocer de cerca, entre otras organizaciones, el Basque Culinary Center y la Facultad de Humanidades y Ciencias de la Educación.
Bilbao campus celebration Active participation of the sports service in the first edition of "Hiruak bat" in Bilbao AS Fabrik 2023·06·01
Students and workers participated in the activities organized by the sports service.
Padel tournament Goierri Padel tournament was played in Goierri 2023·06·01
10 couples have participated in this tournament
LEINN - Final Degree Projects Leinners from Strom and Solid teams of the Bilbao Lab have presented their Final Degree Projects 2023·05·31
During the last week of May, eight leinners of the 12th generation of Bilbao have presented their Final Degree Projects in BBF(Bilbao Berrikuntza Factoy) and BAT
WEBINAR Webinar on how the prediction of different technological trajectories contributes to the commercialisation of innovations. 2023·05·31
The webinar will be held on 22 June and there will be a choice of morning or afternoon. This 1 hour session will be free of charge.
Cooperativismo El 12 de junio, webinar sobre la colaboración público-cooperativa en el ámbito de los servicios sociales 2023·05·30
En el debate, que comenzará a las 17:00 horas, participarán Francesco Garcea de Andalucía, Elba Mansilla de Cataluña y Mikel Gorostizaga de Euskal Herria.
Encuentros de Literatura Ana Urkiza, Mikel Etxaburu, Joseba Sarrionandia y Koldo Izagirre participarán en el Encuentro de Literatura 2023 2023·05·30
Bajo el lema 'Encuentros entre escritores y escritoras', los actos de este año se celebrarán en Bilbao AS Fabril el 2 de junio y en el campus de Eskoriatza el 14 de junio.
Aretxabaleta campus celebration Sports games during the Buatxabalta 2023 poteo in Aretxabaleta 2023·05·30
Good atmosphere on Buatxabalta day between students and workers.
Doctorado en Educación Lanzada la convocatoria para la realización del doctorado en la Facultad de Humanidades y Ciencias de la Educación en el curso 2023-2024 2023·05·29
innovación educativa, en el marco del Programa de Doctorado en Innovación e Intervención Educativas.
Jornada La Facultad de Humanidades y Ciencias de la Educación organiza el 8 de junio la primera jornada para compartir experiencias STEM 2023·05·29
La jornada se desarrollará online y contará con el profesorado de la ESO que han participado en los tres proyectos STEM que se compartirán; además, la investigadora catalana Mireia Usart Rodríguez ofrecerá una charla.
Mondragon Team Academy (MTA) MTA, Mondragon Team Academy, team of teams 2023·05·29
Mondragon Team Academy (MTA) is the sum of many teams around the world working and creating ecosystems where teams and project creation become the main learning vehicle. LEINN was the seed that prompted us to create the community within Mondragon Unibertsitatea.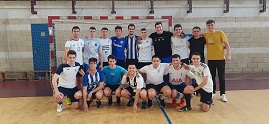 Indoor football tournament in Arrasate Indoor football championship in Arrasate 2023·05·26
Yesterday the spring indoor football championship of the Escuela Politécnica Superior was played in Arrasate.
VISIT Students of ecotechnologies engineering in industrial processes visit the Orkli company's plant 2023·05·26
The visit is part of the university's strategy to bring students closer to the local industrial reality. The activity also encourages students to participate in the dual programme, a pathway that allows them to combine their studies with paid work experience in a company.
COLLABORATION Students of the mechatronics engineering degree at the Bilbao As Fabrik campus develop a machine for the manufacture of springs in the laboratories of the Somorrostro centre. 2023·05·26
In June 2019, the Higher Polytechnic School of Mondragon Unibertsitatea and the Somorrostro Centre signed an agreement for the collaborative teaching of the Degree in Mechatronics Engineering in Bizkaia. This agreement allows students to use the facilities of both entities during the 4 years of the degree course.
Nuevo máster Mondragon Unibertsitatea presenta junto a las entidades colaboradoras UEU y Eusko Ikaskuntza el nuevo máster en Promoción de la Cultura Vasca 2023·05·25
En la presentación celebrada en el campus de Eskoriatza han participado, además del coordinador del máster, representantes de las entidades colaboradoras: Aitor Bengoetxea, director de la UEU, y Ana Urkiza, presidenta de Eusko Ikaskuntza.
Badminton tournament Eskoriatza 8 couples in the couples badminton tournament in Eskoriatza 2023·05·25
Yesterday the spring badminton tournament was played.
Comunicación Audiovisual Estudiantes de 4º de Comunicación Audiovisual han realizado un podcast sobre el grado 2023·05·24
En cinco capítulos, las y los estudiantes abordan temas tanto de dentro como de fuera de la universidad y reflexionan sobre el futuro.
Agreement Mondragon Unibertsitatea and Athletic Club sign an agreement to make easier for Athletic's student athletes to undertake higher education studies 2023·05·23
The agreement is valid for three football seasons, until the 2025/26 season, and may be extended annually for periods of one season.
3x3 Tournament in Arrasate Spring 3x3 basketball championship in Arrasate 2023·05·23
The 3x3 basketball championship was played today in Arrasate with the participation of 9 teams.
Proyecto 3Kimu El proyecto 3Kimu ha dado a conocer los nueve trabajos finalistas 2023·05·22
Se han hecho públicos los nombres de los nueve proyectos finalistal del reto promovido por la ikastola Arizmendi, el colegio Lea Artibai, Politeknika Txorierri y la Facultad de Humanidades y Ciencias de la Educación de Mondragon Unibertsitatea. El 5 de junio se celebrará, en el campus de Eskoriatza, el acto de entrega de premios y el encuentro de clausura del proyecto.
PROJECT FATECO research project draws to a close 2023·05·22
The project aimed to improve the structural safety of automotive components and was supported and funded by the European Commission through the Research Fund Coal and Steel call for proposals.
COMPETITION New edition of the Enpresa Sortuz competition to promote industrial technological entrepreneurship 2023·05·22
The Engineering School of Mondragon University is looking for innovative and sustainable technology-based business ideas in this new edition of Enpresa Sortuz. Registration ends on 30 May. The competition will award grants and funding for 6 projects to be developed next year.
PRESENTATION OF DIPLOMAS The Engineering School of Mondragon Unibertsitatea awards diplomas to 602 graduates from bachelor's, master's and doctorate courses 2023·05·22
The event was held at the Kursaal in Donostia and was attended by a large number of the graduates' families.
WEBINAR Webinar: Manufacturing and Industrial Insights and Tendencies 2023·05·22
Estas ponencias de dos días organizadas por la Escuela Politécnica Superior de Mondragon Unibertsitatea se enmarcan dentro del EIT Manufacturing Doctoral School