Asier Casado Biain is the winner of the draw May challenge winner 2022·06·21
97 have completed the challenge
Karting spring Karting spring championship 2022·06·20
Last Friday the championship was held at the Olaberria circuit
Koro Beitia represents Mondragon University Spanish University Taekwondo Championship 2022·06·17
Championship held in Los Alcázares (Murcia)
Football 7 26 teams and 250 participants in the spring football 7 tournament 2022·06·10
Very good atmosphere among the participants during the tournament
Lucas Hart represents Mondragon University Spanish University Golf Championship 2022·05·30
Championship held in Antequera (Malaga)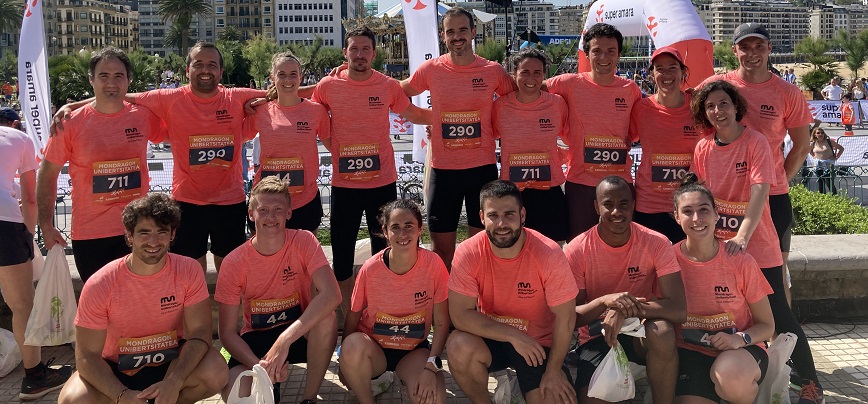 Mondragon Unibertsitatea was represented in the XIII. Companies race with 5 teams Mondragon Unibertsitatea was represented at the XIII. Companies race 2022·05·17
In the XIII. Companies race that held in Donostia on 15 may, the participants covered a distance of 8.5 kilometres.
Paulo Arrieta has represented Mondragon Unibertsitatea Spanish University Judo Championship 2022·05·16
Championship held in San Pedro del Pinatar.
A team of 7 students represents Mondragon Unibertsitatea in Murcia Spain University Volleyball Championship 2022 2022·05·16
Championship in Los Alcazares (Murcia) from May 10 to 12
We started the day with sport and games San Pankrazio 2022 2022·05·13
San Pankrazio in the faculties of Arrasate and IDEO
Kepa Aldekoa represents Mondragon Unibertsitatea in Murcia Spain University Swimming Championship 2022 2022·05·04
Compete in the modalities of 100 and 200 back
Nora Lizarralde is the winner of the draw Korrika challenge winner 2022·04·12
26 have completed the challenge
Talks and healthy lunches. Health week activities 2022·04·11
Activities organized on all Mondragon Unibertsitatea campuses.
International "Pelota" Tournament Students from Mondragon Unibertsitatea participates in Zabalki 2022·03·18
One couple has played frontenis and the other pelota
Data Analytics Tournament 6 teams in the futsal championship in Bilbao 2022·03·11
About 50 participants between students and workers
University Sport Championship 450 participants in the University Sport Championship of Basque Country 2022·03·04
Good atmosphere in the Championship organized by Universidad de Deusto.
Fitness offer New agreement in Bilbao with Modu gym 2022·03·01
Advantages in Modu gym
Tournament The sports championship of the University of Mondragón was held yesterday. 2022·02·17
Around 200 students gathered in Arrasate and Aretxabaleta.
Ski Formigal The students of Mondragon Unibertsitatea have been skiing in Formigal 2022·02·10
The students of Mondragon Unibertsitatea have enjoyed the skiing outing to Formigal.
Football 7 and handball More than 300 participants in the football 7 championship and the handball meeting of MU 2022·01·26
27 teams participate in these tournaments
INTERNAL CHAMPIONSHIP Bilbao The internal winter championships in Bilbao ended yesterday 2022·01·13
Frontenis, Padel, 3x3 basketball and futsal have been the modalities organized in the internal championships of Bilbao.
Material loan Zorrozaurre Loan of sports equipment in Bilbao AS Fabrik 2022·01·12
Starting in January, enjoy practicing your favorite sport on the Zorrozaurre outdoor courts.
Haritz Sein and Amaia Ubide are the winner of the draw December challenge winner 2022·01·11
42 have completed the challenge
Equestrian center Zabolain New collaboration with the equestrian center Zabolain 2022·01·05
Would you like to try or improve your technique on horseback? ask at the Sports Service
Bilbao Rugby Collaboration New collaboration with the Universitario Bilbao Rugby club 2021·12·29
Possibility of participating in the training sessions of this rugby club in Bilbao
Sport sweatshirt design contest Resolution of the sweatshirt design contest 2021·12·21
28 different desings and one winner in the sport sweatshirt design contest
Karting 2021 Karting winter championship 2021·12·17
Yesterday Thursday the championship was held in Vitoria-Gasteiz
INTERNAL CHAMPIONSHIP We have played the internal championships of Goierri and Orona-Ideo 2021·12·16
We already have the winning teams from Goierri and Galarreta in the internal championships.
"Eskupilota" tournament Last Thursday the HUHEZI "eskupilota" tournament was played 2021·12·13
4 couples have participated in this tournament
Volleyball Championship The Mondragon Unibertsitatea Volleyball Championship was played yesterday 2021·12·02
8 teams and around 60 students have participated in this tournament that was organized in Aretxabaleta